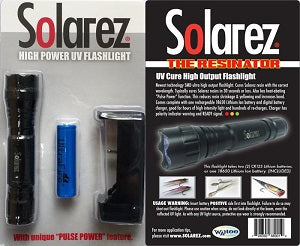 Newest technology SMD ultra high output flashlight. Cures Solarez resin with the correct wavelength. Typically cures Solarez resin in 30 seconds or less. Also has heat-abating "Pulse Power" function. This reduces resin shrinkage and yellowing and increases bond. Comes complete with one rechargeable 18650 Lithium Ion battery and digital battery charger, good for hours of high intensity light and hundreds of re-charges. Charger has polarity indicator warning and READY signal.
The "Resinator" is a kit with a flashlight, battery and charger. The "High-Output" Torch is in fact, the same torch that is in the Resinator kit. It has a very strong 2.5" diameter beam. It also has a second "click" function where it pulses at 1 second intervals. It is a great way to rapidly cure some of Solarez' hottest resins while not accumulating as much heat which causes yellowing or distortion. Of course, you can always attenuate light yourself by moving the flashlight but the pulse function is nice automated feature.
The "Pro Roadie" kit has a very good Torch in it, but not as powerful as the Resinator torch yet it does still use the same 3.7V 18650 battery (although it does not come with a battery) it could use two CR-123 batteries, available at most pharmacies or hardware stores, most markets too. It has a powerful beam of about 2" - very adequate.
The "Roadie" kit contains a small but powerful flashlight that uses a single AA battery. It has a focal point of about 1/2 the area of the other two torches but that area (about 1" diameter) is larger than most areas you will probably ever cure at one time. AA batteries are inexpensive and very easy to come by. All torches function VERY well but the rechargability and power and pulse function of the largest one makes it a great torch. ALL 3 LED torches utilize the same SMD chip technology and are an incredible buy of technology that we have in our time. Like smartphones, one of the really great little