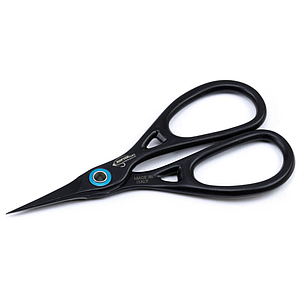 KOPTER - SCISSORS ABSOLUTE STEALTH
KOPTER scissors ABSOLUTE STEALTH
- All-round fly tying scissors, high precision and strong cutting.
- Very thin tips and microserrated edge for strong, precise and clean cut.
- The special black Teflon coating guarantees anti adhesion to glues and resins (Shellac, UV, Cyanoacrylate glue...).
- The ergonomic design provides great feeling in hand and easy to pick from the table.
- The patented Ring Lock System in substitution of the conventional screw consist in two special rivets and a Teflon bushing squeezes between, that provides smooth cutting action and preserve the life of the edges.
- Hi Quality Tempered Stainless Steel AISI 420.
- Made in Italy.