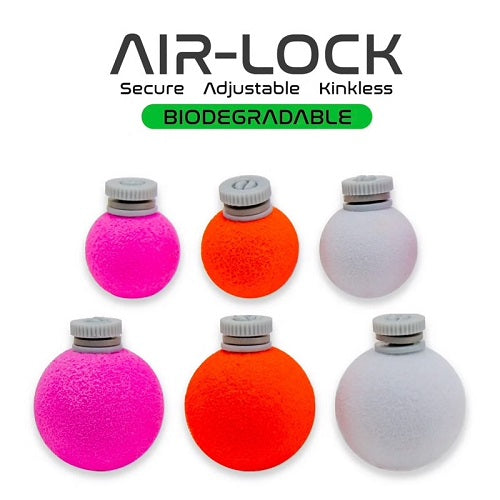 AIR LOCK STRIKE INDICATORS
New & improved biodegradable foam design!

Tired of kinky leaders and difficult to adjust strike indicators? Air Lock indicators are the answer. Super easy to use and super easy to adjust depth. Durable as hell and easy to see on the water.
The new biodegradable foam material used in the latest version of the Airlock Indicator is more sensitive for better strike detection, more durable and easier to slot when attaching. Available in Pink, Orange or White.
All you do is remove the knob and place the leader in the notch between the vertical posts of the Air Lock indicator.
Then simply replace the knob and twist to tighten. Done
30% Lighter:  Easier, more efficient casting and delivery.
Suspends 25% more weight on the water.
Stealth:  Neutral-colored post is less visible to fish, and the lighter overall weight lands softer on the water.
Sensitivity:  Better strike detection.
Durability:  No more leaks, dents, holes, cracks or pops!
Easier to see leader slot when attaching.
Hurts 38.6% less when you hit yourself in the back of the head on a forward cast.
Small - 1/2"
Medium - 3/4"
Large - 1"
The Air Lock indicator 3/4 is our go to summer trout size, the 1 inch for bigger nymphs and steelhead fishing with larger flies.
3 units  per pack