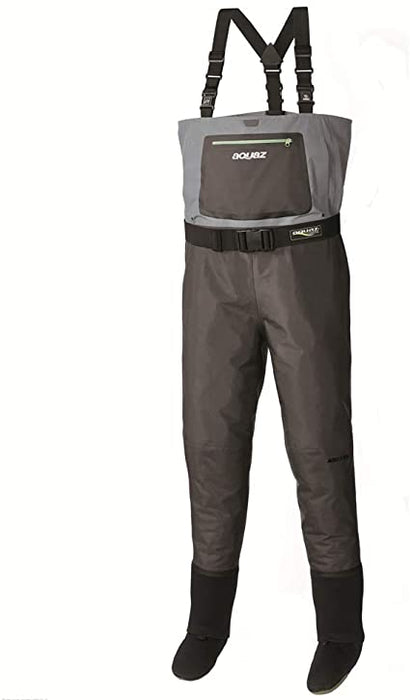 Wadertek Convertible Wader
ATTENTION: Please check the size chart before buying to ensure proper measurements of your wader. AQUAZ Waders are covered by a 2 year warranty against defects in material and workmanship.

WADERTEK CONVERTIBLE WADER: Wadertek is Aquaz's newest wader, developed with new fabric from AQUALEX. The upper body is equipped with 4 layers of lightweight AQUALEX for comfort and mobility. The lower body, including full legs and hip is also equipped with 4 layers as well as heavy duty Oxford nylon fabric and strong tricot bonding treatment for maximum protection.

CHEST AND WAIST WADER: The Wadertek is equipped with a new convertible suspender system with detachable buckles for easy and convenient transition from chest to waist wader. Comes with an elastic waist belt with 2" buckles. This style is practical for the summer seasons as well as for those than often find themselves in and out of the water.

NEOPRENE STOCKINGFOOT: Anatomical 4mm high density neoprene stocking foot with super stretch gravel guards protects debris from entering shoes and feet. Stockingfoot waders are ideal for those walking or hiking moderate to long distances as they are lightweight, easy to store, and are more adaptable and versatile.

ADDITIONAL FEATURES: Front chest pocket has YKK water repellent zipper and new waterproof flip-over pocket is detachable with Velcro and plastic hook for storing gear. Tool dock is located on the chest of the wader and hand warmer pockets are fleeced lined to keep hands warm in the cold weather. Repair kit is included.